A question I often hear is, "Should I wear an abdominal binder or wrap my belly after baby?"
Abdominal binders are controversial in the fitness and rehab world, spurring strong opposing views.
One group says, "YES!" and believes that using an abdominal wrap postpartum can help give the body support and stability through the intense healing period after giving birth (whether it was vaginal or C-section).
The other group says, "NO!" and believes abdominal wrapping will cause more harm than good as it can be too much pressure on the core and floor, and not allow the body to naturally regain its true function.
Why would a woman consider using body supports after pregnancy?
The main reason given is that the body experiences a loss of support from the expanded/stretched abdominal muscles and the laxity of the joints, which occurs and subsists postpartum.
What this conversation is about:
Healing
Recovery
Support and stability to a body after pregnancy
What this conversation is not about:
Getting your abs back in six weeks or less
"Waist trainers" like you may have seen in celebrity news
Not doing the proper core and pelvic floor exercise work postpartum to help heal the body from the inside out
This is not what we're going for. It isn't about cinching the waist so tightly that you can't breathe, move, or function well.
Where abdominal wraps and post-pregnancy body support systems can help
You have a newborn and a toddler. You unfortunately don't have 6 weeks to fully rest. Your body needs to move, and you need to be supported in your core and pelvic floor.
You have been experiencing back pain, pelvic pain, symphysis pubis dysfunction pain in pregnancy or after – some compression to your joints feels heavenly.
You are healing your abdominal wall postpartum, and want to heal your diastasis recti.
You had perineal tearing and/or are looking for some support for your pelvic floor.
You had a C-section and need support of the belly and incision.
Where abdominal wraps and post-pregnancy body support systems can hurt
Wrapping too tightly can put undue pressure on your core, pelvic floor, and ribcage negating any positive effects.
Using a support without adequate attention paid to your rehab exercises and alignment – this isn't a bandaid solution.
Wrapping top down, instead of bottom up (see "Abdominal Wraps") can place stress downward on the pelvic organs, rather than alleviating them of pressure.
3 Most Common Postpartum Supports
Abdominal Wraps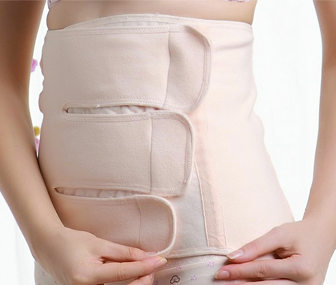 This is likely the style that comes to mind when you think of a post-pregnancy binder.
This is a stretchy, yet taut, piece of fabric that is wrapped around the mid-section. Typically, this is wrapped between the lower part of the ribcage down to the upper pelvis.
Some wraps have a couple different "arms" that you can stretch and secure one a time to hold the wrap in place.  Others, are just one full piece of material that you secure with hooks or Velcro on a panel along the front of the belly.
Pelvic Supports
This type of support primarily wraps around the pelvis, and some styles have attachable groin support bands. Again, this material will stretch slightly, but remain taut to give your hips support and compression. This can be best for mamas who are feeling instability and/or pain in the hips (in the front of the pelvis or in the back of the pelvis).
Compression Garments
This might look like your regular old Spanx or shape wear but it's certainly not.
These types of products are made with medical grade compression fabrics that are highly tested to keep their level of compression through wear and wash.For postpartum, there are shorts you can wear that will help support the trunk, core, and pelvic floor.
Take Note:
If you're using any of these products you should feel like your body and your core are supported, but not uncomfortably restricted. You should still be able to breathe well and take full breaths.
You should be able to move around, squat, sit, etc. Keep in mind that these movements could feel slightly restricting as they are going to "hold" your body in potentially different alignment than you're used to.
Personally, at this time, I do recommend wrapping or using some type of compression to my postnatal mamas. You just have to ensure you're using them properly and not in that "waist trainer, cinch as tight as you can, don't do your exercises or pay any attention to your posture and alignment" kind of way.
I will be testing out an abdominal wrap and compression shorts in my own recovery after baby because I think they will be a couple of additional tools in my toolbox that can potentially help my recovery.