Do you dread doing box jumps, double unders, or even deadlifts because they make you leak? If so, you're not alone.
Recently, there has been a lot more talk in gyms about the issue of incontinence, and I am happy to discuss this issue to clear up some misconceptions about it. Leaking urine during exercise (called Stress Urinary Incontinence or SUI) is common, but not "normal."
In the U.S., the national average of women who experience incontinence is one in three. Incontinence is very prevalent in the athletic community, yet most women do not seek treatment because they are either embarrassed or they assume it's normal because everyone else they know has the same issue. As a physical therapist, I treat women every day who say that they leak urine when coughing, sneezing, and exercising. The most common activities that lead to SUI are box jumps and double unders (some women also experience SUI with deadlifts).
In a physical therapy evaluation, women nearly always follow up admitting to SUI with a statement like, "Of course I leak. I've had two kids."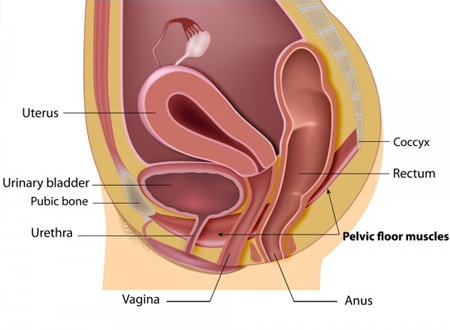 While it is true that childbirth can be one of the factors that contribute to pelvic floor dysfunction, not all women experience incontinence after childbirth; and, more importantly, it can be treated if it occurs.
Leaking urine is a sign that the whole system is breaking down, and the pelvic floor is just the place it shows the most at the time. SUI is only one way that pelvic floor dysfunction may show up. Other clues are: low back pain, hip pain, pain in the buttocks, or pain in the pubic symphysis (where the pelvis joins together in the front).
As part of my initial evaluation, I ask every woman if she ever experiences any incontinence. Over half of the women will say no, until I press a bit, and then they admit that they do.
What they don't understand is that pain in the knee may be related to weak and/or uncoordinated pelvic floor, diaphragm and hip muscles.
Chronic groin strains, IT Band Syndrome, Trochanteric Bursitis, low back pain and Patellofemoral Syndrome are a few of the common diagnoses that female patients seek treatment for – an integrated approach is necessary to identify the root cause of the issue and to successfully treat the problem.
First things, first, if you experience incontinence with running, box jumps or double unders, or frankly, any other exercise, stop. Seek help from a qualified women's health physical therapist, even if your GYN states that you don't need physical therapy. Be an advocate for yourself and seek treatment. The Section on Women's Health of the American Physical Therapy Association has an index of providers.
There are many factors that can lead to SUI and/or pelvic pain, including weakness of the pelvic floor muscles, overactive (hypertonic) pelvic floor muscles that cannot generate a good contraction because they can't relax, and uncoordinated contractions of the diaphragm, pelvic floor and deep abdominals.
It is important to work with a therapist who can evaluate your specific condition and treat you with appropriate exercises and manual techniques.
The answer to pelvic floor issues and SUI is not always, "do more Kegels."
If the muscles are hypertonic or the issue is with breath holding, Kegels in isolation won't solve the problem. Central stability (commonly called core stability) requires a balance of muscular strength and a neuromuscular strategy for engagement to meet physical demands. The respiratory diaphragm, deep abdominal muscles, spinal stabilizing muscles and pelvic floor need to work perfectly together.
Helping women (and men!) with pelvic floor dysfunction often requires a team effort. Women and men with SUI/pelvic floor dysfunction need to seek treatment. I encourage anyone with these issues to have an evaluation with a gynecologist/urologist and/or a physical therapist specializing in pelvic health. Through evaluation, we can identify what is causing your issue and work with you to treat it.
We know that for any muscle in the body, there is an optimal length/tension ratio; the pelvic floor muscles are no different. We also know that a muscle needs to relax fully in order to then generate a strong contraction – we wouldn't walk around with our biceps flexed all day, so the notion of constant firing of the pelvic floor (i.e. Kegels all day long) or "sucking your belly button to your spine" is incorrect.
Constant tension in the pelvic floor muscles is just as problematic as weak muscles. Learn to completely relax your pelvic floor. I teach my patients to develop a strategy where the breathing is coordinated with the pelvic floor:
Start by laying on your back with your knees bent and feet on the floor.
When you inhale, your belly and pelvic floor should be relaxed.
As you exhale, pretend you're fogging up a mirror with your breath, making a gentle "haaaaaa" sound.
You should feel your deepest abdominals firing gently and your pelvic floor slightly lifting when you exhale this way.
Practice this until you can feel both the relaxation and the contraction of the abdominals and pelvic floor.
As you start to feel the way the whole system works together, you can try this breathing strategy in different positions with different exercises.
Try it in side-lying with a clamshell—begin to exhale gently as you lift the top knee (without letting your hips rotate as you open your knees). Then, relax and inhale as you let the knees come back together.
Bodyweight squats with integration of breathing and relaxation of the pelvic floor muscles can be done daily, several times a day even. Just inhale and relax the belly and pelvic floor as you sit, then exhale and lift through the pelvic floor as you stand (same breathing pattern as you would use for a squat, you're just bringing in the extra awareness of the pelvic floor).
Once you can successfully use this strategy, then you need to integrate the motor pattern of being relaxed on inhale and contracting the pelvic floor on exhale into your functional activities – lifting children or lifting heavy bags of dog food, etc.
For some women, strength may show a measurable increase after several weeks of training (provided that the correct techniques are utilized—this is where evaluation by a professional comes in to play).
With treatment, you will be able to get back to doing the things you love to do; but, for now, please avoid the exercises that cause the leaking to occur.
Training your pelvic floor is just like beginning any other exercise routine: you need to start by building a strong foundation and then progress appropriately.
Take the time to have a thorough evaluation and work with a women's health physical therapist to develop the correct personalized plan to treat your specific issue. We'll help you meet your long term goals of being a strong and healthy.
As mentioned above, other signs that typically show up in cases of SUI may include lower back pain, hip pain, and pain in the pubis symphysis. In general, we strongly recommend including strategies in your training program to address stability, mobility, and overall movement, which can help you avoid getting to this point altogether.