Name: Brooke Kalanick
Age: 39
Location: New York City
What does being a Girl Gone Strong mean to you?
Being comfortable with my strength and power in the gym, in my emotions, in how I affect the people in my life (particularly my family and my patients.) I've historically been scared of being my strong self, and I finally own it.
Why are you so passionate about sharing information with the Girls Gone Strong audience?
Women need information that empowers them. The acknowledges their hormonal landscape as different from men – and as different than themselves five years ago. A simple, one size fits all approach doesn't work for every woman and instead of doubting that plan, women doubt themselves.
I want women to know that it's not their fault, the dieting industry has done us all a disservice – but its changing and GGS is a big part of that change.
Women need to know how to work with their hormones, not against them as they often do – pushing harder, blaming themselves and feeling terrible. Once I teach them that though, the real work begins. It's bridging that gap between knowing better and doing better that really changes women's lives. The work gets done with focused habit change and finally winning those head games women play.
What excites you most about being part of Girls Gone Strong?
I am most excited about being part of a community of women whose goal is to be strong, confident and amazing. I'm honored and humbled to be part of the journey for all of the GGS women aspiring to be better.
What's your athletic background?
Aside from a pretty fun stint as a high school cheerleader, my heart was never in athletics. As a kid I swam competitively for years and played softball every summer but never felt I was an athlete. I was never fast enough—never good enough.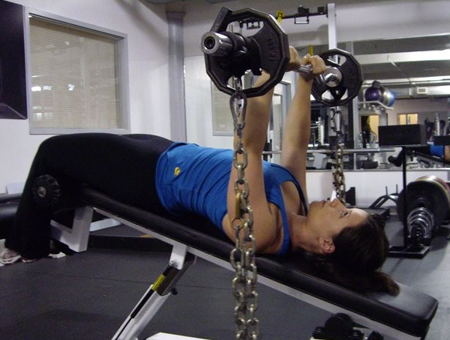 Unfortunately, I never stumbled upon a good coach to nurture any talent I did have—until I started lifting weights.
In college I discovered strength training and finally had a medium where my strengths—literally—could shine. I was strong! I was never the skinniest girl in the gym, but I was strong. Unlike before, where I was never the fastest swimmer so I shied away from the sport as a whole, not being the skinniest girl didn't matter. In the gym, I had a place to just be me – do what I did best.
It became a passion…but given my lack of athletic background, never did I think I'd end up with fitness as part of my career!
What are you currently doing for your own training?

My main goal right now is healing my diastasis recti (abdominal separation) and strengthening my pelvic floor after my second pregnancy.
This is the first time in my life I've been this open to and focused on rehab. I've always let it fall by the wayside as I tried to make every workout all about fat loss. My insecurities led me to many injuries and lots and lots of overtraining.
I've finally gotten comfortable in the in-between: between my old body, my pregnant body and my post baby body. It's not easy every day when I really want to deadlift or sprint and I can't.
But I'm finally done being a jerk to myself!
It helps to have two little Girls Gone Strong in my life now (my two daughters) to remind myself that a better body starts with love.
What does a sample workout look like for you?
With a newborn, most workouts are at home – not ideal, but ensures I get it done! I am doing a daily rehab program designed by Jessie Mundell that includes several exercises for pelvic floor strength and focus on healing the diastasis. She's also got me doing some breathing exercises which are particularly challenging as I have a hard time slowing down!
I'm also using my TRX, Valslides and a couple kettlebells to get in a strength circuit 4 times per week. And since I've been a mom, I've gotten quite creative and have become a regular in our apartment stairwell! While I'm dying to start sprinting up and down those stairs for some interval training, I'm currently walking them many, many times focusing on good alignment and a tight core.
And of course I'm taking my new little one on lots of long walks in the stroller. I try to do this daily (doesn't always happen) because walking is my meditation. It's my time for moving and clearing my head, I love it.
What's your favorite exercise or movement?
I love big lifts that make me feel powerful, like deadlifts and bent-over rows. I can't wait to be able to do a pull-up again, but my all-time favorite exercise is a sprint! Get me an open stretch of road or a ball field and I'm happy!
Top 5 songs on your training playlist:
I've actually started training without music. My gym now doesn't have overhead music playing, and I forgot my iPod one day and ended up really loving it. I am terrible about deep breathing and tempo when I lift and the quiet has really helped me focus. I was shocked how much I enjoy it…I've always loved a good pump-up song!
Top 3 things you must have with you at the gym/in your gym bag:
Right now home is my gym so my top three musts are: baby in the bouncy seat (or asleep), toddler involved in an art project and a big glass of water. As a former gym rat, this is truly hard for me to believe….
Do you prefer to train alone or with a training partner? Why?
The past few years I've been training alone and honing focus, which has been good for me. But I do miss training with my husband. He worked me really hard and always makes me laugh – how lucky am I that he is a comedian and a personal trainer?? We actually met working at the same gym and our lives are amazing now, but miss the days of boxing and lifting together.
Most hilarious pick-up line you've heard at the gym:
Not sure if this is hilarious or not, but when Joe and I first met and he taught me to box, he started calling me Dr. Kick Ass. I think I fell in love right about then.
Most embarrassing gym moment:
This wasn't embarrassing for me, but it should've been for the guy who did it. When I was four months pregnant, this guy took a break from checking himself out in the mirror to tell me if I, "wanted to lose that belly" I should get out of the weight room and into the cardio room. Seriously.
Favorite meal:
I love good food, so this is a tough one! But I can honestly say after years of feeling guilty after any little indulgence that was sure to ruin all progress, that my favorite food is one I "choose" because I want it. Not because I craved it, deserved it or "have to eat it 'cuz it's on my diet."
Owning my choices around food has made eating a favorite thing again instead of one rife with fear and guilt if it was a treat, or laden with punishment because I "have to". Now it's nourish, not punish.
Favorite way to treat yourself:
When I was single and childless, I had elaborate bath time regularly, spa days and time with my girlfriends. Now I'm thrilled for a quick pedicure! Because time is so tight, I've try to find the pampering in little moments, like waking up before my family and enjoying a cup of tea on our fire escape and taking time to be grateful.
Favorite quote:
"Life's like a movie, write your ending. Keep believing, keep pretending. We've done just what we set out to do." (Thanks to the lovers, the dreamers, and you.) – The Muppets
Favorite book:
This is a tough one! I'm a self-improvement book junkie, I'll admit – and I have so many that have changed my life, it's truly hard to pic a fav. One that I've read more than once though is the Big Leap by Gay Hendricks.
What inspires and motivates you?
Integrity. If I'm not working every day to be better, how can I expect my patients or children to?
What does a typical day look like for you?
Right now still feels like I'm nursing around the clock! And my schedule is completely at the whim of the baby, but this time around I'm not trying to hold myself to a schedule.
I work in the moments between changing a diaper, wrapping the baby in a swaddle, playing Play-Doh with my toddler and squeezing in a shower and a workout. Going with the flow is not natural for me, but embracing it has helped me do more and be less stressed about it.
What's the coolest "side effect" you've noticed from your training?
Instant attitude adjustment.
Next training goal:
Pull-ups! I was thrilled when I could finally do them, looking forward to it again.
What's your biggest accomplishment in the fitness industry thus far?
Finally accepting that what I have to offer has value. I struggled so much in the beginning that I didn't "look like a fitness model, so who needs me??" My lifelong struggle with "feeling fat" despite my size kept me playing small and not helping the women that need me. I can't say I've totally licked this, but it doesn't control me anymore. I'm here and happy to be.
Three words that best describe you:
Tenacious, stubborn and overwhelmed! What I aspire to be is courage, love, and inspiration.
How has training changed your life?
In addition, to keeping me sane, there's such a sense of satisfaction that comes from going to space even for 30 minutes and being nothing but strong. It bleeds into other parts of my life.
After a good strength session, I feel I can do anything. And I know, when that feeling fades the weights are there for me again – anytime I need them.
What do you want to say to other women who might be nervous to start working out?
You belong in the gym. You deserve to be there as much as any guy or any woman you deem, "looks the part". You deserve to have your own best body and you deserve all the tools that will help you get there. It won't always be comfortable or easy, but it will always be worth it.
What would you like to be remembered for in regards to your impact on the health and wellness industry?
Helping women stop fighting themselves. We all think we'll be happy when we are skinnier, leaner, or whatever. We think we'll love ourselves then, that we can finally love our bodies when it's different. But ladies, it doesn't end with treating ourselves like we deserve it – it start there. It starts with love.