Editor's note: if you're wondering why Jessi is nude or nearly nude in a lot of her photos, make sure you read all the way to the end, where she shares a beautiful and important message.
Name: Jessi Kneeland
Age:  28, almost 29!
Location:  NYC
What does being a GGS mean to you?
To be a part of a movement that inspires me was my goal when I started taking my personal training career seriously. I knew I liked lifting weights, but it was the empowerment that came with it that I considered my calling.
As far as I'm concerned, physical strength is so important because it fosters mental, emotional, and spiritual strength, and its will entirely transform your confidence.
GGS does a great job of making sure both are treated with equal importance.
How long have you been training?
About eight years.
Favorite Lift:
Deadlift, hands down. There is nothing like using 100% of your physical and mental energy to pick something really heavy off the ground. It just feels so right.
Most memorable PR:
A few months ago I tested my chin-ups, and got 11 with relative ease! I was beyond excited. Chin-ups and pull-ups make me feel so badass, and I had never hit the double digits. Plus, it's been a few years since the worst of my c-spine injury, and I'm stronger and move better than ever. So a PR like that makes me feel insanely proud and successful.
Oh, and I can totally do handstand pushups now!
Top 5 songs on your training playlist:
Most of the time I'll listen to pop or hip-hop, but if I need a little extra passion for a particularly hard workout, I go for angsty old-school stuff.
Death for my Birthday by Say Anything
Our Lawyer Made us Change The Name of this Song so we Wouldn't Get Sued by Fall Out Boy
Again I Go Unnoticed by Dashboard Confessional
Out of Control by Rufio
Set Phasers to Stun by Taking Back Sunday
Top 3 things you must have with you at the gym/in your gym bag:
My headphones, Rose's lip salve, and about 4000 bobby pins and hair ties.
Most hilarious pick-up line you've heard at the gym:
HA. Nobody hits on me at the gym. My headphones are in, and I'm pretty sure my body language sends people a clear message to stay away.
Favorite way to treat yourself:
Getting my hair blow dried probably. My hair is super curly, so it's such a wonderful treat for someone else to make it all shiny and tame for me. Plus I just love having my hair played with!
Favorite post workout meal:
Protein shake: Jay Robb vanilla protein, banana, cinnamon, water and ice, blended. Sometimes I'll add peanut butter.
Best compliment you've received lately:
"You somehow make all the people around you become the best version of themselves."
Most recent compliment you've given someone else:
"You're amazing and strange and whole-hearted; being near you is good for my heart and soul."
Favorite book:
Most recently Ender's Game. Amazing. I'm one of those fiction-lovers who considers book characters to be my close personal friends, and Ender was a really great adventure buddy.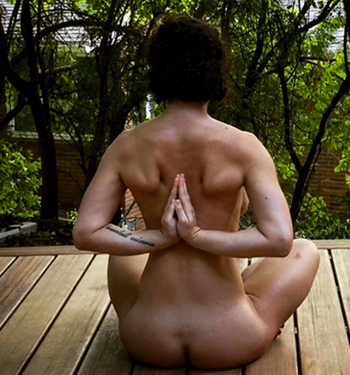 Favorite quote:
"No one can make you inferior without your consent." Eleanor Roosevelt
What do you do?
I run Remodel Fitness! I work with women through one-on-one coaching (all done virtually, since I live all over the world), and right now I run two virtual group courses a few times a year: The Empowered Women Project and Remodel Stress. The Empowered Women Project teaches you how to step into your most empowered self and cause a ripple effect in the world by lifting up and inspiring other women with your radical authenticity and courage! Remodel Stress is about shifting your relationship to stress and anxiety- but not just the external "logical" stress! We dive into the internal stuff like self-criticism, black-and-white thinking, and never making time for self-care.
What else do you do?
I recently moved out of NYC and became a nomad, so a lot of what I do lately is exploring different places, and trying to embrace a more outdoorsy lifestyle. I like hiking, and I've been on one very tough backpacking trip. With my extra free time (since I'm no longer training clients in person, just doing online coaching), I read a ton and listen to lots of audiobooks. I like to go on long walks, write in my journal, and I recently re-kindled my old love affair with arts and crafts; I just bought a whole bunch of brushes and acrylic paints and made a big canvas painting of mountains and a sunset!
I'm also exploring cooking for the first time, since cooking in NYC was never especially important or appealing. I like working with food, and I like the idea of being able to nourish my loved ones. I've also taken up a more flexible movement practice, meaning I move when I can, however feels right. I still train with barbells at the gym, but I also try to play with one yoga pose every day, and take advantage of whatever is available and fun-sounding, like rock-climbing, hiking, frisbee, etc. Other than that, since I work entirely remotely now, I'm traveling a lot lately and spending time with people who are important to me. It's pretty wonderful.
What inspires and motivates you?
Oh my goodness. So many things. Travel, good fiction, nature, snowboarding, deep conversations with interesting people, fashion, inspiring quotes, feminist role models, newly discovered science, and connecting with women.
What's the coolest "side effect" you've noticed from lifting heavy?
I think the change in self-identity. For myself and many of my clients, you start from a place of "I'm just a clumsy person," or "I'm not athletic," or "I'll never be able to do that." And little by little you realize you were wrong!
You're not clumsy, you are athletic, and you can do so many things you never realized... all of the sudden, it starts to open up possibilities in your head. What ELSE might I be? What else can I do? You start to identify yourself differently, and with far less restrictions.
Next training goal:
Improve strength, skill, health, and movement quality, all while training flexibly and intuitively. I was always following fairly rigid progressive programs, and now I'm experimenting with a more flexible approach.
Three words that best describe you:
Witty, opinionated, imaginative
What's a recent risk you've taken?
I recently wrote and published a blog post about nakedness that felt like a huge risk. I've aways been passionate that our culture's lack of real, natural, non-sexualized female nakedness is a problem. In my post, I explored why it's so damaging to women to grow up only seeing these hyper-sexualized naked female bodies, and also how our lack of exposure to body diversity leads to negativity and shame about our own bodies. I included photos of myself doing yoga poses naked, as a way of walking my talk and honoring my authentic self. It felt very vulnerable, trusting the world to hear my message and receive the photos how they were intended. Luckily the post was received extremely well, and I got tons of positive positive and thank-you-for-your-courage notes. It was very reassuring and uplifting to see how many people were ready to have that kind of discussion.
Tell us about a time when you overcame fear or self-doubt, and how it turned out.
Oh goodness. I feel like I overcome fear and self-doubt all the time. Last year I decided to go to life-coaching school. It was this intense, nine-month program; super expensive, and very time-consuming. I was afraid of being seen as "less serious" of a strength coach in the industry, but I knew I needed the skills to help people create change from the inside, in order to do the kind of work I wanted to do. To me, fitness is about self-care at its core; it's about saying, "I am worth taking care of. I am worth feeling amazing. I am worth fully inhabiting and expressing myself."
So many people approach it from a negative place, like trying to hate themselves into changing. Most women attempt to shame themselves into looking different, but that approach doesn't work in the long term. It doesn't ever offer the person what they really want. Most people think of fitness as an issue of willpower and discipline, rather than an expression of how you feel about yourself. Being a Health and Empowerment coach means helping people align their values with their goals and behaviors, exploring and breaking through resistance, and helping them step into—and celebrate—their own unique awesomeness. It's pretty amazing to see what happens when someone approaches their body and fitness in this way.
What do you want to say to other women who might be nervous to start lifting heavy?
Just start where you are today. It's a journey, not an event. You don't have to be "ready," you just have to honor where you are today in the journey. Start there, and get a little better each day.
To read more from Jessi, you can visit her website, connect with her on Instagram, Facebook, or follow her on Twitter.