Name:  Lauren Brooks
Age: 34
Location: Encinitas (San Diego), California
What does being a GGS mean to you?
Being a GGS is something to be extremely proud about. Everything GGS stands for is what I believe in. It's an honored to be recognized by such a great movement. We as women no longer need to feel uncomfortable in the weight lifting section of the gym. We can carry ourselves with both femininity and strength as a person, not just a female.
How long have you been training?
I began training myself around the age of 15 years old. I always had a fascination with the body and how it moved. I did a lot of experimenting in the gym . While studying for my degree in Kinesiology, 15 years ago, I trained people the conventional way.
Honestly I didn't see incredible results for myself or my students until I met the kettlebell almost 10 years ago.
Favorite Lift:
Turkish Get Up and Single Leg Deadlift are honestly an even tie. I just can't choose between these two phenomenal exercises.
Most memorable PR:
It's a tie between a 64-pound Turkish Get Up (Bodyweight 116 pounds) and 53 pounds added to my Ring Pull-up (Body weight 113 pounds)
Top 5 songs on your training playlist:
Rather than songs I have the top 5 artists. As long as I have some sort of Hip Hop, House music, Punk or old school I'm happy as can be! A few of my favorite artists for training.
1. Christopher Lawrence
2. Ice Cube
3. Michael Jackson
4. DJ. Tara Brooks
5. Dr. Dre
Top 3 things you must have with you at the gym/in your gym bag:
Luckily I train at home and don't need a gym bag. If I were to have to go to a gym I'd make sure to have tunes, a towel and water. Luckily my gym can be anywhere.
Most hilarious pick-up line you've heard at the gym:
It's been years since I've stepped foot in to a "gym."  Well I do remember one.  "What's the body part you admire most about yourself?"  That was a bit awkward, but needless to say, guess it could've been worse.
Favorite post workout meal:
Raw Organic Pea Protein Smoothie
Favorite way to treat yourself:
Reflexology/Massage and Sushi
Favorite quote:
"Kites rise highest against the wind—not with it." — Winston Churchill
Favorite book:
Favorite training book is a solid tie between Pavel and Dan John's "Easy Strength," and my good friend Ross Enamait's book "Never Gymless."  Honestly too many to name.
What inspires and motivates you?
I'm motivated and inspired by people who don't give up. Everyone has a story.
Those who make their way back from serious injuries or major life challenges using strength motivates the hell out of me.
What does a typical day look like for you from waking up to bedtime?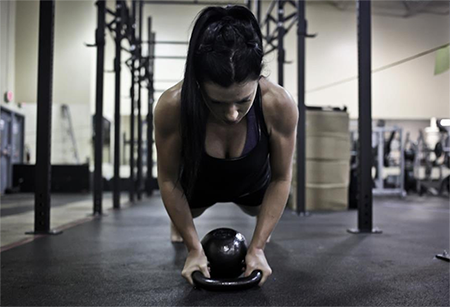 Early Morning 
Wake up, quick rinse off and throw my gym/work clothes on.
Make breakfast for myself and girls while making lunches, coffee and checking emails. Get them off to school and preschool.
Mid Morning
Teach classes and private sessions
Late Morning
Train myself and make lunch
Afternoon 
Nutrition/Program Design Counseling on phone sessions
Returning emails

Preparing for new projects such as newsletters, DVD's and programs
Pick up kids from school
Late Afternoon 
Dinner preparation
Teach an evening class and sessions
Evening
Bath and reading time with girls
Bed time
Late evening
Bath time and reading or writing for myself.
10 p.m.
In Bed with book or reading on phone. (Bad habit).
What's the coolest "side effect" you've noticed from lifting heavy?
Other than being able to never need help when shopping or lifting items, I'd have to say having my body look better now than before having two babies via C-section.
Thanks to intelligent heavy lifting I have increased my strength and have a more energetic solid structural integrity.
Next training goal:
15 Pull-ups and to achieve 1 perfect Get Up with a 32kg bell, maintaining my current body weight.
Three words that best describe you:
I'm not one to describe myself. My students tell me I'm: inspiring, positive, and powerful.
What do you want to say to other women who might be nervous to start lifting heavy?
First I want to give them a virtual hug. Girl, you've got nothing to fear. Lifting heavy in an intelligent manner is the greatest discovery and gift any woman can give herself.