Name:   Marcie Arroyo Sislow

Age: 39
Location: Seattle, WA
What does being a Girl Gone Strong mean to you?
It means being unafraid to live in your own skin! Discovering my own strength increased my self-confidence and has helped me to be a better role model for my daughter. I believe being self-sufficient is empowering, being confident in your imperfections is freeing, and being able to move with a healthy body is a privilege. My mantra is mindful, attainable strength. It's something that I strongly strive to achieve every time I train myself or others. It's a state of mind, and it's a movement! In today's busy life we need to be ever more present in our daily activities, and that includes training. Being mindful, present, and truly showing up connected with your body is as important as your fitness journey.
Attainable strength is something that we can all strive to achieve. It takes dedication, consistency and most importantly a support system. Girls Gone Strong has been my support system!
How long have you been strength training, and how did you get started?
I've been consistently strength training for the past five years. It all started after the birth of my son who is turning six this year. My turning point came in the fitting room of one of my favorite clothing stores. I was about eight months postpartum. After I had a full on meltdown and cried in the fitting room while nursing this new baby, I decided to take control of the situation and do something about it. I went home that night and did an internet search for at-home fitness. One of the first things that caught my eye was an ad for a kettlebell DVD. I had no idea what a kettlebell was, and I wanted to learn more. My search led me to Neghar Fonooni. After contacting her, I started online coaching and quickly fell in love with kettlebells and strength training.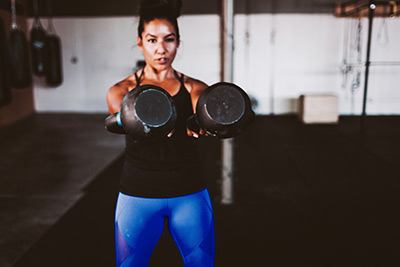 What are your areas of expertise in health and fitness?
I've always been a sporty kid. I played soccer, ran cross country in high school, and ran a half marathon back in the day. For a little over three years, I worked as a paramedic in Chicago while I finished my degree in exercise science. After graduation, I decided I wanted to add some more skills, and went on to become certified in massage therapy through the Cortiva Institute of Massage in Chicago. Today, I am a proud SFG-1 Instructor, RKC Instructor, Onnit Foundations coach, and lover of all the tools in the toolbox! I tend to gravitate towards unconventional training because it's fun!
What does your typical workout look like?
It depends on what I'm working toward at the time, but on a typical day I start with some mobility work, and I usually start my sessions with a couple of sets of Turkish get-ups and light swings. Currently, I've been doing three or four total-body, strength-focused days with some kind of metabolic finisher during the last five to ten minutes of my session. Variations of the deadlift, squats, chin-up practice, military press, and swings are some of my favorite things to train. As far as a finisher, my favorite right now is a Tabata of 20 seconds of work and 10 seconds of rest for eight rounds. I'll throw in whatever I'm in the mood for that day.
Sometimes I stick to the plan, and sometimes I don't I think it's important and just listen to what my body is in the mood for that day.
Favorite Lift:
Two of my favorites moves are the deadlift, because of the booty gains and the KB Turkish get-up. The get-up is one of those moves that engages your whole body, and it almost feels like a beautiful piece of choreography. It's like a dance with your kettlebell. It's graceful and powerful all at the same time!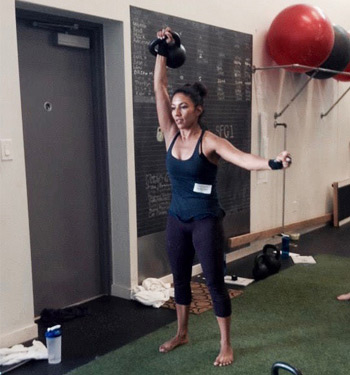 Most memorable PR:
Crushing my snatch test for the SFG and RKC! I completed my test by snatching 100 reps in five minutes with a 16kg kettlebell. The last two minutes of the test took absolutely everything I had, but I wanted to finish what I started so badly that I was nearly in tears at the end! Besides being physically challenging, it was such an emotional journey for me because I had been training for this and trying to get to that finish line for quite sometime. It felt amazing to finally accomplish something I had been working toward for so long.
Top 5 songs on your training playlist:
So What'Cha Want/Beastie Boys
W.O/Ministry
Strobe/deadMau5
My Own Summer(Shove it)/Deftones
Gasolina-DJ Buddah Remix/Daddy Yankee,Lil John,Pitbull
Top 3 things you must have with you at the gym or in your gym bag:
Sling Shot Hip Circle I use it to activate my glutes as well as in my dynamic warm up
Bose wireless headphones
EO Everyone Baby Wipes for those post-training wipe downs
Do you prefer to train alone or with others? Why?
Alone. Training is a chance to shut off the world and get in my own head. It's my zen! With two kids, my home life is far from quiet. I crave that alone time where I can blast my angry music, smash some weights, and not think about anything other than the lift.
Best compliment you've received lately:
I was at my favorite coffee shop(El Diablo in Seattle) recently when a very fabulous man came up to me and asked me if I was wearing fake lashes. I said no, just wearing mascara. He then waved his hand in the air and said "YAS Queen…SLAY girl….you are blessed!" The thing about that morning was that I wasn't feeling very fabulous, and I was battling some negative voices in my head. That one minute interaction with this stranger totally changed the way I was feeling. In that moment my attitude totally changed, and I went on with my day with a better attitude. When in doubt……slay, girl!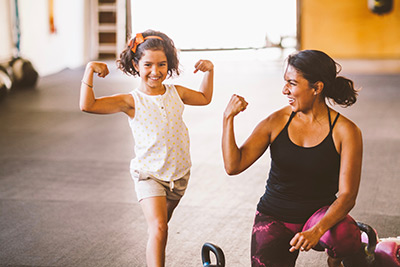 Most recent compliment you gave someone else:
The most recent compliment I gave was to my daughter. I told her that her curly hair was looking extra fabulous. It totally made her morning!
Favorite meal:
Does dessert count as a meal? Hmmm….Pizza, pancakes, and pie…oh my!
Favorite way to treat yourself:
A cup of chamomile tea at night in my favorite robe, with my lavender heating pad wrapped around my neck... total #grandmastatus happening at my house. I also love getting regular massage and a mani-pedi.
Favorite quote:
"Do not go gentle into that good night. Rage, rage against the dying of the light!" — Dylan Thomas
Favorite book:
I haven't really read for pleasure in quite sometime, which is something I'd like to change. The last book I enjoyed was Born Survivors by Wendy Holden.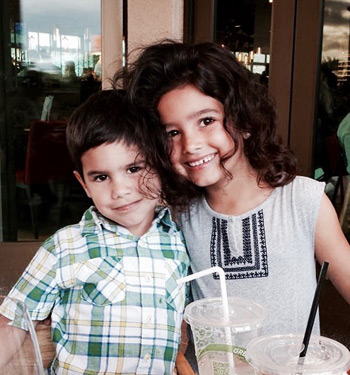 What inspires and motivates you?
My kids, Sophia and Trent. They are fearless and care-free little humans. They inspire me to charge into the world fearlessly and confidently. As we grow up, we tend to lose that care-free attitude toward life. We stop questioning, and we stop wandering. We are raising our kids to question everything and to never be afraid to wander and get lost in the world. How are you supposed to find yourself if you never truly lose yourself in the first place?
What do you do?
I'm a kettlebell coach, mom, wife, and personal trainer. At one point in my life I considered myself to be a professional booty cleaner but thank goodness those days are no more!
What else do you do?
I love trying new things, I've only been in Seattle for the past three years, so there is still so much to explore! I enjoy taking long walks, paddle boarding, eating all the things, and am pretty darn good at making pottery. I also love making potions and lotions! In another life I must have been a healer or a medicine woman, since I have a strong connection with plants, herbs, and homeopathic medicines. I love making healing tinctures and syrups, herbal soaps, soothing salves for those callused hands, and loads of other medicinal concoctions.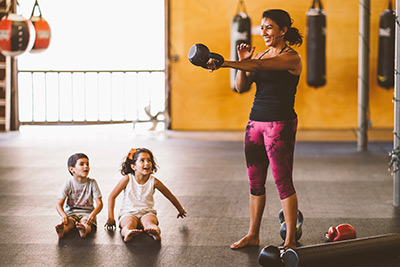 Describe a typical day in your life:
Depending on the day...
5:15 — Wake up.
6:15–7:15 — Teach my kettlebell class.
7:15–9:20 — Head back home and drink my coffee in silence before getting the kids up and starting our morning. Breakfast is made, backpacks are packed, then I walk my kids to school.
10ish — Head back to the gym get my own training session in, and depending on if I'm teaching another class, I hang out till after. If not, I head back home.
12ish — Lunch, laundry, house stuff
1:30–3ish —  Work on business development, write programs for clients, catch up on emails, etc.
3:30 — Pick up kids from school.
4–6 — After-school activities, homework with the munchies.
6–7ish — Dinner and clean-up
7–8ish — Hang out, family time
8ish — Put the kiddos to bed.
9–10ish — Relax! Watch my trash TV, with my cup of tea and my lavender heating pad, then bedtime!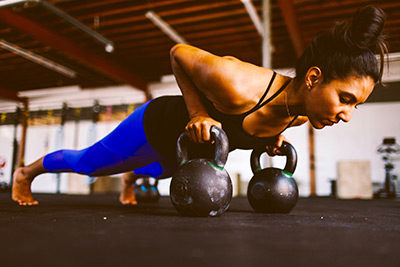 Your next training goal:
What's next for me is getting jacked before I hit 40 this year! I'm going big, and I've started the Bigness Project from my friend and fellow GGS Kourtney Thomas and GGS Advisory Board Member Jen Sinkler. I'm really loving the change of pace and the change in training tools, and I'm excited to see what the end of the journey will bring!
What are you most grateful for?
I am most grateful for my health! A few months ago I had a severe vertigo attack that landed me in the ER. It was so violent that I thought I was having a heart attack! Fast-forward through many trips to the doctor, meds, and finally seeing my naturopath. I was diagnosed with Benign Paroxysmal Vertigo. It completely floored me for months. I was bedridden and just the simple task of walking my kids to school became the most difficult challenge of the day. Training and teaching were out of the question, when I couldn't look up or look down without getting severely dizzy. This humbling experience taught me to slow down and really listen to my body. I had been juggling too much for so long that my body had finally said enough!I'm starting from scratch with my training, but I can finally do deadlifts and Turkish get-ups without feeling queasy. My strength is slowly coming back but I'm just grateful to be able to do what I love again!
Which three words that best describe you?
Outgoing. Bubbly. Annoyingly happy.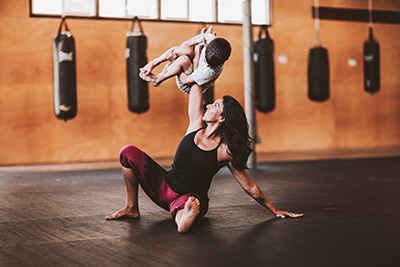 What's the coolest "side effect" you've noticed from strength training?
One of the best side effects of strength training is being able to lift my kids however and whenever I want. They're getting big, and I can still keep up. Also, I love my friends call me when they need help lifting anything heavy.
How has lifting weights changed your life?
It's definitely made me more confident and has opened the doors to be able to teach others what I've learned along the way. I feel so lucky to be able to do what I love each and every day.
What do you want to say to other women who might be nervous or hesitant about strength training?
In today's busy society, we make ourselves the very last priority, when in fact, we should put ourselves at the top of our list. Do it! We only get this one life, this one body, to truly discover our inner and outer strength. We are given these amazing vessels.
What a shame to go through life without ever really knowing what you're capable of!
All professional photos by Paolo Sanchez. Location FUELhouse, Seattle, WA