Abby Eville, later known as Abbye "Pudgy" Stockton, was one of the original Girls Gone Strong, as we discussed in Part 1 of this series.
While no women's physique star was as quite famous as Pudgy because of her popularity in Strength and Health; Relna Brewer Mcrae gave her a good run for her money and they forged a friendship of iron.
Born November 5th 1919, Relna was led to stardom by an unfortunate turn of events. She learned the value of health early on in life during The Depression.  At this time, there was a flu epidemic (2000 people had died) which bound her mother, older brother and sister to the bed.  She took care of them and did her best to study nursing to give them proper treatment. One day when she was boiling water to sterilize the dishes, she tried to carry the tea kettle, she slipped and was burned  so severely she could not walk for weeks.
At this time, Relna's brother Paul was taking gymnastics in high school.  Paul saw Relna severely scarred, unable to walk, out of school for an entire year, and in the hospital for a few months, and was able to convince her to take up exercise.  She was instantly hooked.
She did everything she could to get stronger and feel better, which eventually led to her being the first woman to perform at Muscle Beach in Santa Monica.
She became so good at gymnastics she eventually became a stunt woman in movies falling off horses, buildings, down stairs, ledges, etc.  Her beauty did not go unnoticed either, as she was eventually cast as a stunt double for Marilyn Monroe. She and three other women were also  picked from the Santa Monica crowd to perform in the San Francisco World Fair in 1939 where she gained more attention, which lead to further movie roles.  Elna's brother Paul went on to become a professional stuntman as well.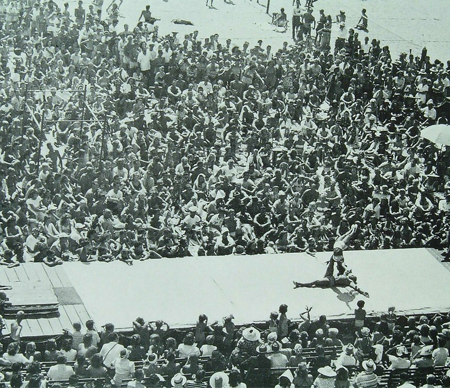 Her routine of training nightly at a local gym until around 11 p.m not only paid off for her physically, but romantically as well.  It was there that she met her future husband, who was managing the gym at the time.  He chased her for a while before she agreed to go on a date with him to a movie.  They hit it off right away and raised a family soon after.
By this time, Santa Monica was drawing talent from all over the world, including the world's greatest wirewalker who crossed Niagra Falls.   He trained Relna to walk the wire and soon The Los Angeles Examiner wrote a story calling her the, "Outstanding Athlete of the Year," and gave her a gold cup.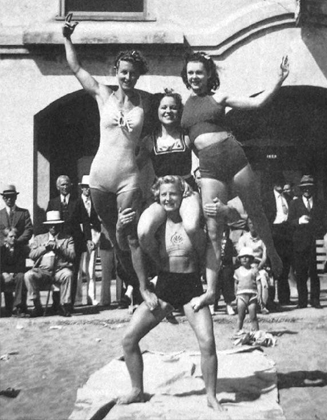 In 1938, she won the Miss Venetia beauty pageant (likely right after ripping a phone book in half).  Soon after, Vic Tanny (who went on to become a pioneer in the gym industry) moved his gym to Santa Monica in 1939. He trained Relna to become a champion weightlifter. Around that time, she was billed as, "The World's Strongest Woman," as no one could beat her in a weightlifting event.
In an audio interview, she jokingly said her good friend Pudgy would have had a lot less success at weightlifting if she (Relna) were not so busy birthing her children.
Relna, who stood 5'2 at 115 pounds was a strength dynamo regularly performing strength feats such as ripping phone books, bending iron, and support feats.  She was always the strongest of the performers, so she was often the base. She said the most she ever supported was four men! Like Pudgy, Relna showed the world that strength  training did not make women masculine, and was admired for her beauty.
Relna and Pudgy were best friends, the leading strong women of Muscle Beach, and often performed together. Relna and Pudgy's accomplishments spread the world like a wildfire igniting a passion to train in generations of women.