Things happen quickly in the third trimester, and if you're working with a client through her pregnancy, you may sense her growing excitement — and a healthy dose of anxiety — keeping pace with her growing belly as the big day draws near.
It's important that you remain flexible and focused on the baseline training goals of the third trimester, which for most clients experiencing a healthy pregnancy typically include:
Maintaining some level of physical activity.
Reducing discomfort.
Maintaining strength.
Minimizing "doming" of the anterior core.
Minimizing downward pressure on the pelvic floor.
Preparing mentally and physically for birth and what lies beyond.
One of the best ways to support your client during this time is to understand some of the common mental and physical changes that can affect her ability to exercise. Keep these concerns in mind and follow your client's lead if she experiences any of the following:
Low back pain
Fatigue
Diastasis recti
Dizziness in supine position
Pelvic girdle pain
Carpal tunnel syndrome
Pelvic floor dysfunction
Low Back Pain
Your client may feel some low back discomfort during the final trimester and will likely mention it in training sessions. As a coach, it's beyond your scope to diagnose the cause of her back pain, and the best course of action is to refer her to her healthcare provider to make sure there aren't underlying serious health issues.
The good news is that exercise has been shown to be beneficial for women with low back pain. Find movements and exercises that are pain-free for your client and that make her feel strong and confident in her body. If an exercise is painful, try modifying her technique or alignment and see if her pain improves. It is always helpful to ask questions about how she feels during and after her training sessions — many women feel that low back pain is an inevitable part of pregnancy and may not even mention it if you don't ask! Make sure she is comfortable and lets you know if any of the exercises make her feel more pain.
We know from the research that there is no one type of exercise that is superior to other forms when it comes to low back pain. Modalities such as yoga, pilates, strength training, swimming and walking may all be beneficial. Many pregnant women find relief with some of the following exercises and stretches, which can be performed in the gym or at home:
Pelvic tilting (e.g., sitting on a Swiss ball)
Hip circles
Thread the needle
Cat/cow stretch
Knee rolling (on back, moving knees side to side)
Standing pec stretches
Seated piriformis stretch or "Figure 4" stretch (if tolerated)
Kneeling or standing hip flexor stretch
Fatigue
Fatigue is a common complaint in the third trimester. Carrying around the extra weight gets exhausting, and the process of growing a baby is likely sapping your client's energy. Plus, she may not be getting much sleep because she can't get into a comfortable position and has to get up frequently in the middle of the night to use the restroom.
Be aware that every woman experiences pregnancy differently. Some women may feel great in their final trimester and will stroll into labor with little discomfort. Tune into how your client is feeling and ask her how she is doing at the start and end of every session. Be prepared to make adjustments where required. She may experience a reduced aerobic capacity as the baby grows and presses into her diaphragm. High-intensity training may be too challenging at this point and she may do better with lower intensity activities.
Some days, gentle movement, relaxation, and stretching may what she needs, rather than strength training or aerobic exercise — so be flexible in your planning. She may also need more rest days between sessions to improve her recovery, so if she normally trains with you on Tuesdays and Thursdays, and you've noticed that she's feeling more drained on Thursdays, ask her if she'd like to switch her Thursday session to Friday.
Screening for iron deficiency is a common part of pregnancy medical care, but if your client is experiencing exhaustion during the third trimester, she may benefit from having her iron levels checked again. Make sure she brings it up with her physician who may prescribe some iron supplementation.
Diastasis Rectus Abdominis
Even though diastasis recti (DR) is considered a normal response to pregnancy and practically every pregnant woman will have it, you should still monitor your client's abdominal wall for any bulging along the linea alba between the two sides of the rectus abdominis muscles.
With your client's permission (always ask first), place your fingers just above her belly button and feel for any bulging along the midline. If she's wearing a tight T-shirt you may be able to see the outline of her abdominal muscles. Bulging will be obvious.
If you notice bulging when she's performing a particular exercise, modify her technique or eliminate that exercise. Good alignment and breathing may help control intra-abdominal pressure more effectively which is sometimes enough to eliminate the bulge. By the third trimester (and often as early as the middle of the second trimester) the linea alba may not be able to support certain exercises. Planks, crunches, and other high-load abdominal exercises in a front-loading position often cause doming, but so can simple overhead dumbbell exercises. Monitor the abdominal wall frequently and adjust accordingly.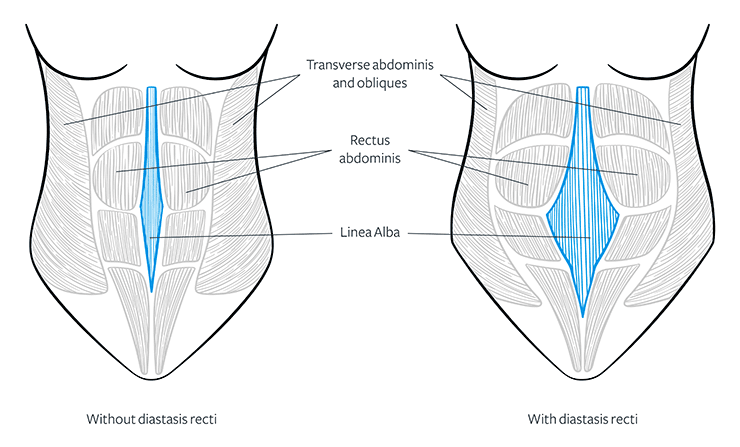 With everything that's happening in the abdominal wall and pelvic floor, it's no wonder many women feel weaker in the final trimester. Reassure your client that it's all normal and that it's OK to use lighter weight in her workouts as her due date approaches.
Although we don't want to scare our clients, they may need to be reminded that these changes to their workout regime aren't permanent, but the consequences of pushing beyond the capacity of their abdominal wall and pelvic floor may be.
Dizziness in Supine Position
During the third trimester, minimize the amount of your client is lying on her back, especially if she experiences lightheadedness, tingling in her legs, breathlessness, or general discomfort in that position. If she does experience any of these symptoms, you can try having her perform these exercises at an incline of about 15 degrees or eliminate supine exercises altogether. Check in with her regularly and make adjustments as necessary.
Many health and fitness professionals feel that  as long as a woman feels OK in supine position — that is, she doesn't feel lightheaded or nauseated, and her breathing is not impaired during or after the bout of exercise or stretching — she should be fine in this position, but most international guidelines still state that we should avoid this position for prolonged periods, especially in the final trimester.
These guidelines seem to change quite frequently as the available science changes and we learn more. Make it a point to stay informed of the most current recommendations to ensure your pregnant clients' safety and comfort.
Pelvic Girdle Pain
Pelvic girdle pain (PGP) is very common during pregnancy, often affecting the pubic symphysis and sacroiliac joints. Your client may describe this as:
Pain around her pubic symphysis or groin.
Pain around the middle of the buttock that can sometimes be felt in the low back or the posterior thigh.
Pain that refers down the back of her leg towards her knee.
The degree of pain can vary from a mild annoyance to severe pain requiring a walking aid. At the front of the pelvis, women might point to the pubic bone and talk about a sharp, stabbing pain in that area. For some women the pain radiates into the inner thigh as well. Pain around the sacroiliac joint will often feel like a "pain in the butt" and some women will think they have sciatica (but no pins and needles or numbness). Your client may be unlucky enough to have pain in more than one joint of the pelvis.
Many women say getting into and out of bed, standing on one leg to put on shoes and socks, or walking make the pain in the front of the pelvis worse. In the SI joint, this pain is often aggravated by similar activities that cause a torsion or twisting of the pelvis, such as walking, rolling in bed, and getting into and out of the car.
If your client describes this kind of pain, refer her to her healthcare provider for evaluation and pain management. As with low back pain, it is important for this client to be screened for any serious issues, and her physician will usually ask specific questions that will indicate if there is a need for further investigation.
In terms of your role with this client, try and find ways to keep her exercising. Pain and immobility can take a physical and emotional toll, so you play an important role in using exercise as therapy. Specific stabilizing exercises haven't been shown to be particularly beneficial at reducing pelvic girdle pain, but exercise in general seems to have a benefit for other aspects of physical and mental health. Liaising with the client's physical therapists can help guide you in the program creation.
If your client is experiencing pain the gym, some simple adjustments to common exercises in your client's program may be necessary to reduce pelvic girdle pain. For example:
Keep the foot on the floor during bird-dogs.
When performing lunges, keep the length of the lunge shorter if needed.
Avoid wider squats if there's pain at the front of the pelvis.
Avoid standing on one leg if it aggravates pain.
When working with your client, remember that the words that you use really matter. Avoid using terms like stable and unstable and don't tell your client that her pelvis is "out of alignment." Explain that although she feels pain and her joints are sensitized, she is not doing damage by exercising, and reassure her that the vast majority of women find that their pain disappears within a few weeks or months of delivery.
Carpal Tunnel Syndrome
You client may mention discomfort in her wrists while performing exercises in the gym. Wrist pain, numbness, and tingling — all symptoms of carpal tunnel syndrome — are common in the final trimester due to the increased fluid compressing the median nerve as it runs through the front of the wrist. If you suspect your client has carpal tunnel syndrome, refer her to a physical therapist or occupational therapist for assessment and treatment recommendations.
Weight-bearing exercises that place the wrist in extension may aggravate your client's wrist joint pain. Adapting exercises to reduce or eliminate wrist extension — such as using a rolled up towel under the heel of the hand — may relieve her symptoms. If she moves her wrist in a way that tends to make the pain worse with some exercises, changing the position of her wrist into a more neutral (less extreme) position may also ease the pain and allow her to continue.
Pelvic Floor Dysfunction
At this stage in pregnancy (and sometimes earlier), symptoms of pelvic floor dysfunction often appear. Your client may experience stress urinary incontinence and heaviness in her perineum, and she may feel an increased urgency that makes her rush to the restroom more frequently.
If your client has any of these symptoms and she isn't already seeing a pelvic health physiotherapist, your best bet is to refer her to one for an assessment and advice. Working closely with her pelvic health physiotherapist should help you to continue guiding your client through her workouts with appropriate modifications.
We recommend most women avoid exercises that apply a lot of downward pressure on the pelvic floor during their final trimester, especially those with a history of pelvic floor dysfunction or those who are experiencing symptoms. This also includes making sure your client refrains from performing a valsalva maneuver (holding her breath and bearing down) while training.
While a small percentage of high-level athletes are able to continue higher intensity activities (with appropriate scaling) without detriment, this will not be most of your pregnant clients' experience. For many women it is sensible to avoid deep, wide, loaded squats and high-impact work such as running, box jumps, or double unders in the final weeks of pregnancy.
Encourage your client to rest immediately after her workouts to help improve recovery and keep her muscles strong. At this stage of her pregnancy, it may not be the best idea for her to follow up her workout with several hours of errands, housework, or other activities that require her to stay on her feet.
Long walks may start to irritate the pelvis and leave your client feeling achy or heavy. Limiting walking time may be necessary to  reduce impact and stress on the pelvic floor if your client is symptomatic. If your client usually takes a walk for 30 to 45 minutes and feels any discomfort during or after it, encourage her to break up the walk into two sessions of 20 to 25 minutes at different times of the day. If that's still too much, she can try taking just one walk for 15 to 20 minutes and see how her body responds.
Conclusion
Exercise plays an important part in maintaining health and wellbeing throughout pregnancy, and as a fitness expert, you can help modify the exercises in order to keep your clients moving. Developing a working relationship with local health professionals will be pivotal in providing the best outcomes for your pregnant clients.