Powerlifting — images featuring well-muscled men wearing singlets, sniffing nose tork and clapping their chalk-covered hands together as they stalk up to the bar might pop into your head just from reading the word.
If that's you, I totally understand. Many people who are new to powerlifting — who have felt the first spark of interest but have not yet competed — may feel intimidated by a world they're not familiar with yet.
And listen, it's not just the men who are playing hard: women are also ruling the powerlifting world. Lifters like Kim Walford, Bonica Brown, Stefi Cohen, and Shirley Webb continue to set incredibly inspiring records while drawing more and more women into the sport. (At my very first powerlifting meet in 2014, there were nine women competitors; that same meet in 2017 hosted more than 90 women.)
Powerlifting is much more than a workout, it's training for a specific and simple purpose: to improve the most you can lift in the squat, bench press, and deadlift. That specificity can be a big draw.
In a world that continues to debate beauty standards, as well as who gets to be fit and what fit actually means, powerlifting is refreshingly objective.
On competition day, there is only one question to answer: can lift it or you can't you? (The good news is that with a great training program and coach, you will.)
Easy access to heavy-hitting lifters through social media is likely to be why many women hold back from competing, telling themselves "I'll compete when I'm strong enough." While social media may seem to be dominated by scores of lifters hefting weights that one may have a hard time believing without visual proof, I promise that when it comes to competing, the range of lifters in regards to strength, age and experience is wider than you think.
Yes, the playing field can look daunting if you don't know exactly what you're getting into. However, as the head powerlifting coach at The Movement Minneapolis, as well as the woman at the helm of Unapologetically Strong Online Coaching, I've trained hundreds of lifters to prepare for their first powerlifting meet.
I spend a lot of time answering questions and clarifying what exactly is involved in training for and competing in powerlifting, because I know firsthand that the more information you have in advance, the better you'll be prepared to say yes when it comes to participating — especially if it's something you've never done before.
So let's talk about exactly what you're getting into, and why I think you just might love donning that singlet!
The Entry Requirements Are Lower Than You Think
Can you squat to just below parallel, touch the bar to your chest when benching, and perform a deadlift off the floor? If your answer is yes, you can compete in powerlifting.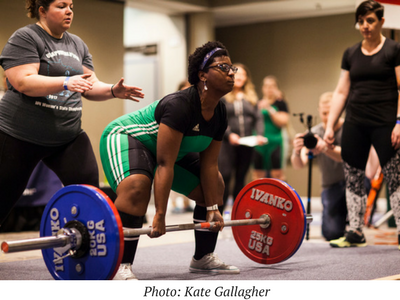 But how strong do you need to be? According to the USA Powerlifting Rulebook (the largest powerlifting federation in the United States), the absolute minimum amount of weight a competitor needs to be strong enough to lift in a powerlifting meet is an empty bar, plus the collars. This equals 55 pounds, or 25 kilos.
55 pounds — sounds pretty approachable, yes?
It's worth mentioning that while a 55-pound bench press or squat is doable, it will be hard getting into a good position for deadlifts when the bar only has the collars on it. The lightest plates used in competition, which weigh 15 kilos each, will bring the bar to a more ideal position — about nine inches off the floor — and the weight up to a total of 55 kilos, or 121 pounds.
So if you want to compete in powerlifting, your first goal is a 121-pound deadlift.
Almost Any Age Can Compete in Powerlifting
Meets are organized by gender, weight class, and age. Age groups are usually divided into Youth, Open, Teen, Junior, and Masters classes. The following are from the 2017 USAPL Rulebook:
Youth: eight to 14 years of age
Open: 14 years of age and older
Teen: 14 to 20 years
Junior: 20 to 24 years
Masters: 40 years and older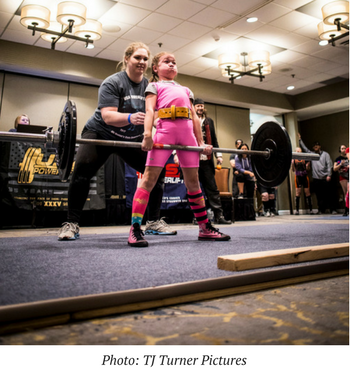 The youngest lifter I've ever seen at a powerlifting meet was eight years old. The oldest? Almost 80.
If you are a Teen, Junior, or Masters lifter, you have the option of registering for the Open as well, and competing in two age classes. This increases your chances of winning a medal, but that doesn't mean you need to make any more than the three attempts required for the squat, bench press, and deadlift. If you register for two classes (usually at an extra fee of around $20), the greatest amount of weight you lift in each lift will count towards both.
Any Size Can Compete in Powerlifting
Let's talk weight classes for a moment. This is something many women get nervous about when they first dive into powerlifting and for good reason: we're taught from an early age that weight is a topic to be discussed in whispers and conditioned to be dissatisfied with the number flashing at us on the scale.
I can almost guarantee you will find the opposite to be true in the culture of powerlifting. Strength and size is embraced as an asset, no matter how big or small you are.
Witnessing such a wide representation of bodies lifting weights in various ranges is an invaluable side benefit of competing in powerlifting.
It will retrain the way you brain perceives body shape — for the better.
In powerlifting, weight is nothing more than another means of organization. Groups of people who share similar body weights are grouped together to help level the playing field: it simply wouldn't be fair to pit a 120-pound lifter against a 200-pound lifter.
The classifications below represent the standard women's weight classes in local, regional, state, national, and international and regional events sanctioned by the USA Powerlifting:
43.0 kg class: up to 43.0 kg (only applies to junior lifters)
47.0 kg class: up to 47.0 kg
52.0 kg class: from 47.01 kg up to 52.0 kg
57.0 kg class: from 52.01 kg up to 57.0 kg
63.0 kg class: from 57.01 kg up to 63.0 kg
72.0 kg class: from 63.01 kg up to 72.0 kg
84.0 kg class: from 72.01 kg up to 84.0 kg
84.0+ kg class: from 84.01 kg up to unlimited
See? All sizes are welcome to play here.
Anyone Can Win in Powerlifting
This is fun! Placing in powerlifting isn't solely dependent on how strong you are, but how you stack up against the competitors who showed up that day. At my first powerlifting meet, I won third place (and a medal!) simply because I was the third strongest woman in my weight class to show up that day.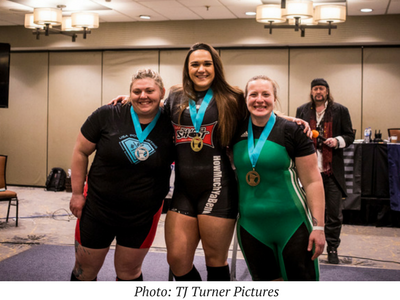 Placing is determined within the age and weight classes listed above, or by lightweight, middleweight, and heavyweight classes (weight class categorization will be determined by the meet director). In computing the score for every competitor, body weight is factored into the formula used for overall scoring, called the Wilks Coefficient. For example, if a 181-pound woman and a 182-pound woman (both competing in the same 84-kilo class) both deadlift 300 pounds, the 181-pound lifter will receive a slightly higher score than the 182-pound woman for that lift.
Anyone can win in the sport of powerlifting, but you can't win if you don't sign up and give it a shot!
It's Easy to Relax When We All Look Like Clowns
Powerlifting is divided into two camps: raw and equipped. Raw powerlifting allows for just a few items of support, like wrist wraps and weightlifting belts. Equipped powerlifting meets include additional wearable equipment that actually help the lifter execute the lift, like a bench shirt, squat briefs, and a deadlift suit.
The list below covers what you need to compete in raw powerlifting according to the USA Powerlifting Rule Book, but remember to check the rules for the federation in which you are competing, because there can be small differences. In general, for raw meets you will need:
A non-supportive singlet (single ply, not a squat suit)
A T-shirt to wear underneath your singlet
Tall socks for the deadlift
Flat-bottomed shoes (no heel rise is good for the deadlift)
Cotton underwear with no legs (brief- and bikini-style underwear is fine, but boy shorts are not)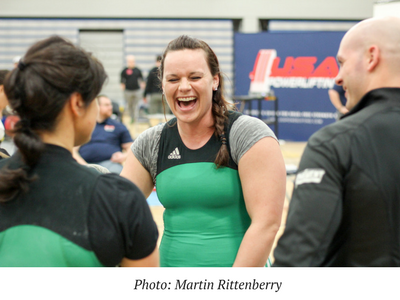 I know that wearing a singlet makes a lot of new and potential competitors nervous and outside of some local, non-sanctioned meets, you can be certain you will be required to wear one. And you know what? It's fine! Singlets not only afford the meet judges a great view of your body performing the lifts, they are also a great equalizer: when every single person is looking slightly ridiculous in their singlet and belt, all covered in chalk, it's hard to feel like you stick out like a sore thumb because, well, you don't.
Getting Started Is Easy
Now that I've convinced you, you might be wondering how you get started on the road to competition. Your first step is to get on a program. If you're not sure where to start, ask one or two people you trust in the fitness space for a recommendation. I advise you against putting this question out on social media because you will likely garner an overwhelming number of responses and risk paralysis over which one to choose.
(Note from GGS: the Strong Women Lift Each Other Up group can be a good place to ask!)
If you have a solid grasp of squatting, benching, and deadlifting, working through your program on your own, with your favorite workout partners, or with a remote coach are viable options. If you're new or new-ish to the big three, I highly recommend working with a trainer in person, either one-on-one or in a small group setting, to get the personal attention you'll need to get square on the mechanics of the lifts.
Next, you'll want to find a meet! If you're not ready to sign on the dotted line just yet, commit to watching a meet from the audience first. Watching how a meet rolls, from how the lifters execute the lifts to how the judges issue their commands, will go a long way towards tamping down the meet-day jitters when you decide you're ready to compete.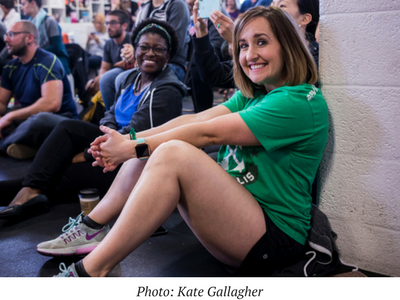 Finding a powerlifting meet can be as easy as googling "Powerlifting meets in [your state]". You can also use the Meet Search function on PowerliftingWatch.com. There you will find which federations host meets in your state, province or country, when those meets are held, and a list of powerlifting gyms in your area.
Each federation also has a local chairperson and if you don't see an event listed, that doesn't necessarily mean there isn't on the calendar. Emailing your state chair and simply asking about upcoming powerlifting meets is an easy way to find meets in your area.
Let's Do This!
After coaching dozens of meets at local and national levels, I've learned the powerlifting community is incredibly welcoming. And while strength, age, and skill levels vary greatly, there's still a sense of togetherness as everyone is united towards a common goal: to lift more weight than they ever have before.
Can you or can't you? Great question! Sign up — I would love for you to see for yourself!